The vocalist with a deep, trudly beautiful voice. The music like a rose – a mixture of fragility and feminity together with mystery and thorn twinge. Musical Denmark which discovers a bit dark, a bit unrecognized areas. Addictive and uncopyable creativness – Marie Fisker.
Big thanks to Maciej, "Dobre, bo duńskie" reader, for letting me know about such a music pearl.
Marie Fisker is a fenomenal Dane. She makes a mix of rock, blues and country music. She recorded one LP so far: "Ghost Of Love" (2009) and an EP "Mirror Mirror Mirror Mirror" (2011). Both LP and EP are available to listen to on a SoundCloud profile of Marie Fisker. They are really worth to get femiliar with them. Her music world is addictive as hell.
"Ghost Of Love" is 10 rather calm, rather thoughtful compositions. The titled "Ghost Of Love" (this song opens the album) is telling the listener that it won't be any madness or huge forms above a lyrical substance. Lamenting guitar, fragile drums, a climate of a small village somewhere on the crossroads. A country music emelents makes me think of USA, not Denmark, when I listen to the album.

Lazy "Hold On To This For A While" is another proof for the fact that Marie Fisker relies on simple sounds and ascetic arrangements. When I listen to her music, my thoughts goes to a porch of a peaceful house in a sultry summer day.
Two songs: "My Love My Honey" and "Deavil Trear" bring a "male atmosphere" and a blues-rock sound.
One of more vivid compositions on the album – "City Lies" marks the apperience of guitars and rock references in Marie Fisker's music. Nicely pulsatory beat, a song to move your feet.
And than it comes "On The Brim" – 100% of melancholy. The voice of Marie Fisker sound more deep and a world around us became more still. The atmosphere of music by older Johnny Cash…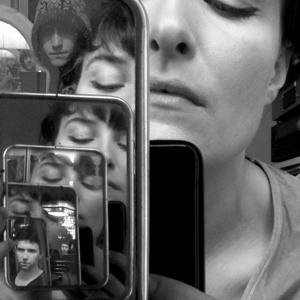 In May 2011 Marie Fisker released an EP "Mirror Mirror Mirror Mirror". The song "Mirror Mirror" is magical, knocks down by its mystery, intoxicates and makes you ask for more! Very interesting video clip to "Mirror Mirror" makes the song even more specific.
On the EP there are 3 songs from "Ghost Of Love", covered by Danish artists. "Ghost Of Love" by Sune Rose Wagner (The Raveonettes), "City Lies" by Chimes & Belles and "Hold On To This For A While" by Anders Mathiasen (Murder).
Under this link you can read a very nice review of the EP "Mirror Mirror Mirror Mirror".
Marie Fisker creates (in a beautiful way) a unique sound. Without redundant combinations. Because she doesn't need them. She only needs her deep engaging voice and a skill to create magic atmosphere by small amount of tunes.
WHAT? WHERE? HOW?
Official webside
MySpace
SoundCloud
Facebook