Oh Land
(translation by Magda Sawińska)
Let's start a female topic. This time it's gonna be a lot of music, but only a little bit of writing.
There's no point describing this beautiful, young and truly talented Dane – Nanna Øland Fabricius (known as Oh Land).
What you have to do is to listen to her music. If you like her, it's quite possible, you'll also enjoy listening to Fallulah (one of the next posts will be about her).
But let's focus on OH LAND now!
Oh Land takes a listener for a unique and colorful journey. Her landscape is made not only of  compositions full of sounds, but also of the ascetic ones. First Oh Land album "Fauna" was released in 2008. Last year we could also hear a really great "Oh Land!" EP.  And this year (2011) we can enjoy "Oh Land" LP – brilliant new album which is a worldwide debut for the singer. Nanna  Øland Fabricius created a lot of beautiful compositions, but my favourites are:
"Fauna" (2008):
Oh Land – Numb
–> favorite song of
Magda
(who translated the post about Oh Land from Polish to English)
Oh Land – Frostbite (feat. Claus Hempler)
– what makes this song amazing is Claus Hempler's  (Danish singer) deep voice
Oh Land – Heavy Eyes

Oh Land – Namazu
– this song reveals the specific "rugged" Oh Land's voice
Oh Land – Audition Day
– perfect balance of different styles chosen to create the composition.
"Oh Land!" (2010): here should (and will) appear the whole EP – 4 different and beautiful songs.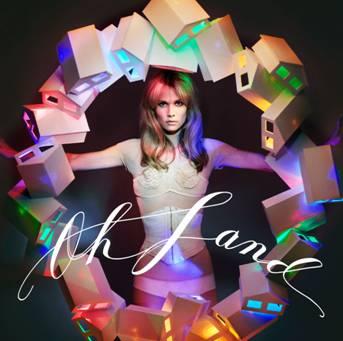 Oh Land -Sun Of A Gun
Oh Land – White Nights (live)  – this wonderful song is as good performed live as it is sang on the album. It proves that Oh Land's performances are not "just" concerts…
Oh Land – Rainbow – beautiful lyrics
Oh Land – Wolf & I – the best one was left out for the end. Slow and monotonous but built in such incredible way that it… takes your breth away.
The "Oh Land" EP was the announcement of "Oh Land" LP which is already on sale. Before the album was released we could have listened to it on the Internet, for example on artist's MySpace. From  the 13th of June 2011 the "Oh Land" album is on sale also in Poland!The album is exactly as great as the EP! Unique vocal, pleasant compositions, interesting arrangements and the climate of the Oh Land's unknown world! The first song "Perfection" shows precisely how perfect is "Oh Land"'s publishing house perfection.The trivial statement "everyone will find something for themselves in it" is truly real in Oh Land's case! Wish you nice research for your favorites!
And for the very end – splendid "White Nights" remix by Twin Shadow.
WHAT? WHERE? HOW?
Official webside
Facebook
MySpace
last.fm